Chilli Con Carne
This is my version of a chilli con carne. It's a firm family favourite, and once you've invested in the numerous spices (sorry about that) it is relatively cheap to make. It's also an ideal dish to freeze into portions for future use and is a relatively healthy dish when served with rice or a jacket potato. If you're not keen on kidney beans, feel free to swap them out for chick peas or omit them altogether. The quantities below should make 4-6 portions.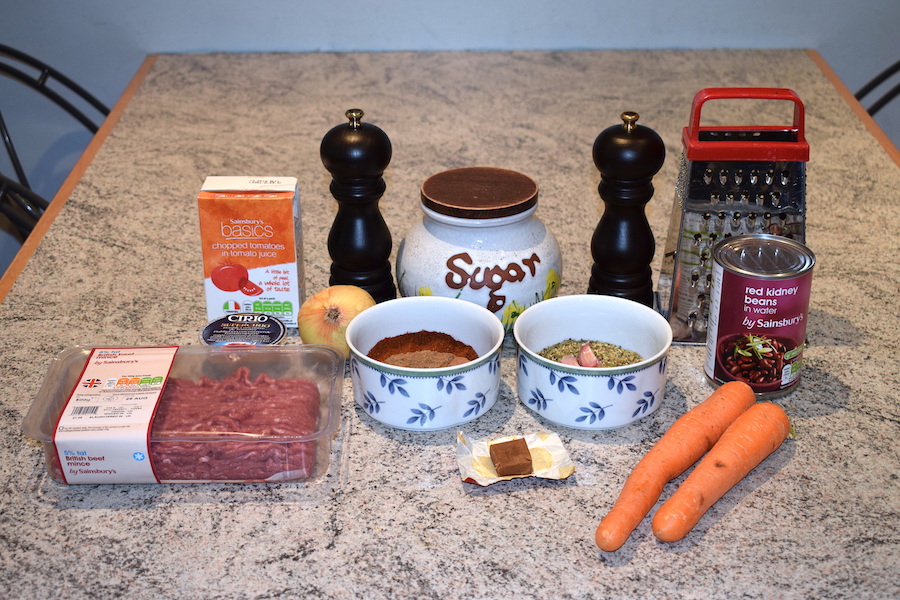 Ingredients
1 tbsp olive oil
1 onion, finely diced
2 cloves of garlic, minced
2 large carrots, grated
70g tomato puree
500g lean beef mince
1 tin chopped tomatoes
1 tin red kidney beans, washed and drained
450ml beef stock (made using one full stock cube)
2 tsps hot chilli powder
2 tsps ground cumin
2 tsps ground coriander
1 tsp ground cinnamon
1 tsp dried oregano
2 dried bay leaves
1 tsp sugar
Freshly ground salt and pepper
1 red pepper, deseeded and chopped (optional)
200g closed cup mushrooms, chopped (optional)
Method
Take a heavy-bottomed casserole pan and add one tablespoon of olive oil. Add the finely diced onion with a pinch of salt and sweat over a medium heat. Once the onion has started to soften and become transparent, add the garlic to the pan and allow it to cook for around 2-3 minutes. Now throw in the minced beef and turn up the heat slightly. Break up the mince into small pieces and cook until it is browned. Whilst the mince is browning, prepare your beef stock.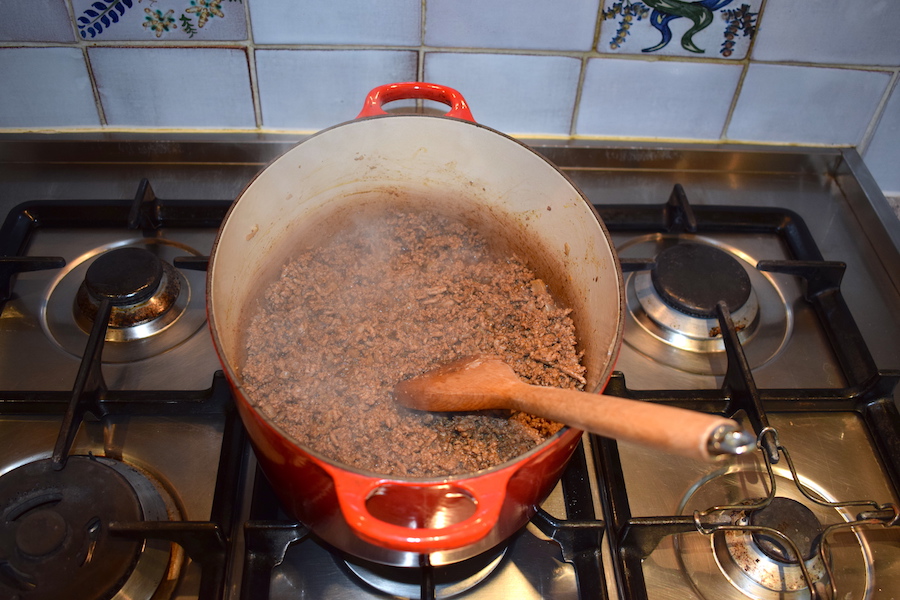 When the mince is gorgeous and brown, add the following: 2 tsps of hot chilli powder, 2 tsps of ground coriander, 2 tsps of ground cumin and 1 tsp of ground cinnamon. Once the spices have been added, give the mixture a good stir and allow to cook for around two minutes. The pan should now be giving off a wonderful aroma, meaning it's time to add the tomato puree. Make sure this is mixed in thoroughly, it will act as the thickening agent.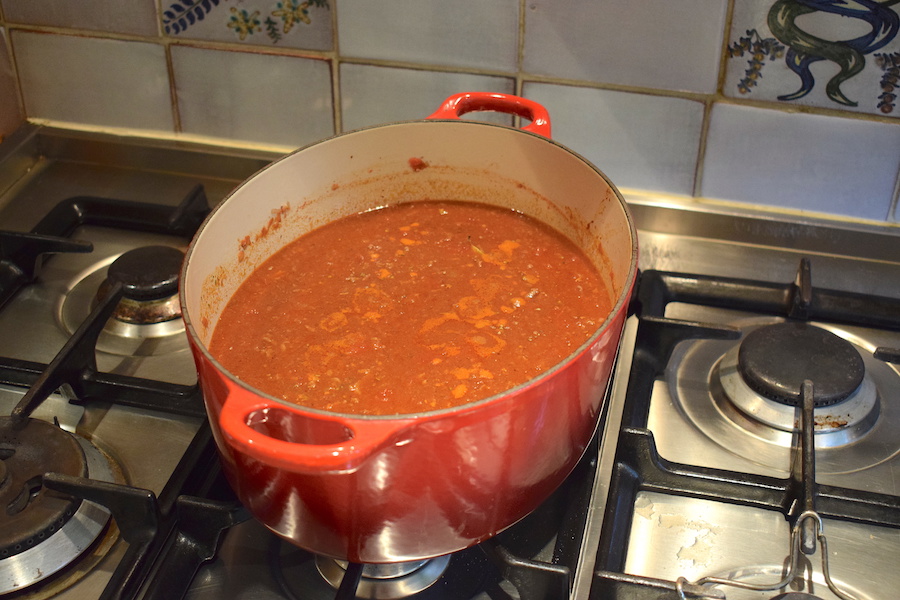 Next, stir in the chopped tomatoes and hot beef stock along with the bay leaves, dried oregano and sugar. Once these are all mixed in, add the grated carrots and kidney beans. Now top it off with a generous grinding of black pepper and a pinch of salt.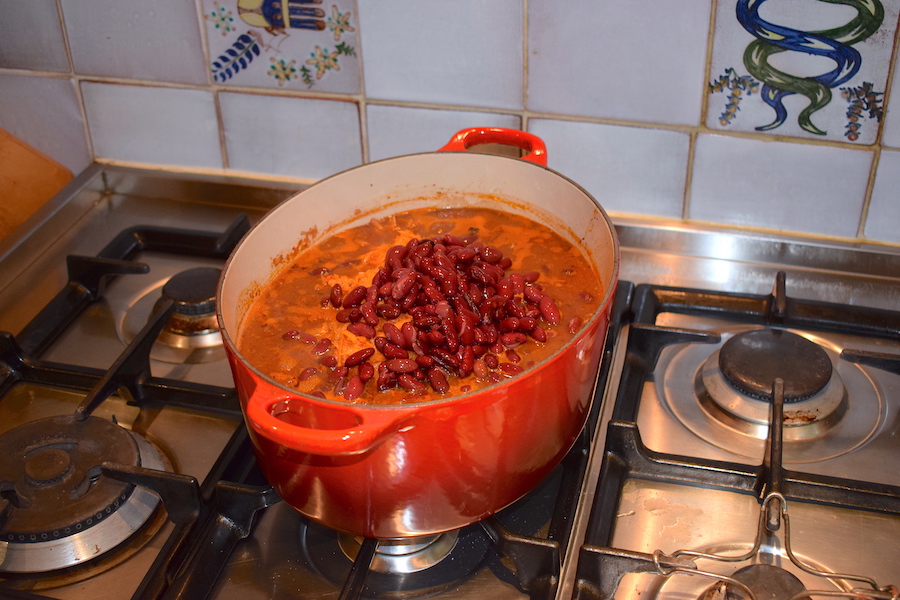 Turn up the heat on the casserole dish and bring the contents to the boil. Keep it boiling for two or three minutes, then turn the heat down to low and allow it to simmer away for forty-five minutes. Keep an eye on it though, and give it a good stir every 10-15 minutes to ensure it doesn't catch. I usually leave the lid off so that the chilli can reduce down and become lovely and thick, but if you prefer it a little looser, place the lid on loosely after twenty minutes.
Serving Suggestions
Once cooked through, taste your chilli con carne and adjust the seasoning as you see fit. I usually serve this dish over rice or with a jacket potato, but you could even serve it over nacho chips for a laid-back naughty dinner.
If it's a little too spicy, you can serve a dollop of soured cream on the side to tame it. On the other hand, if you want an added bite, top it with a good helping of freshly chopped coriander and pickled jalapeños.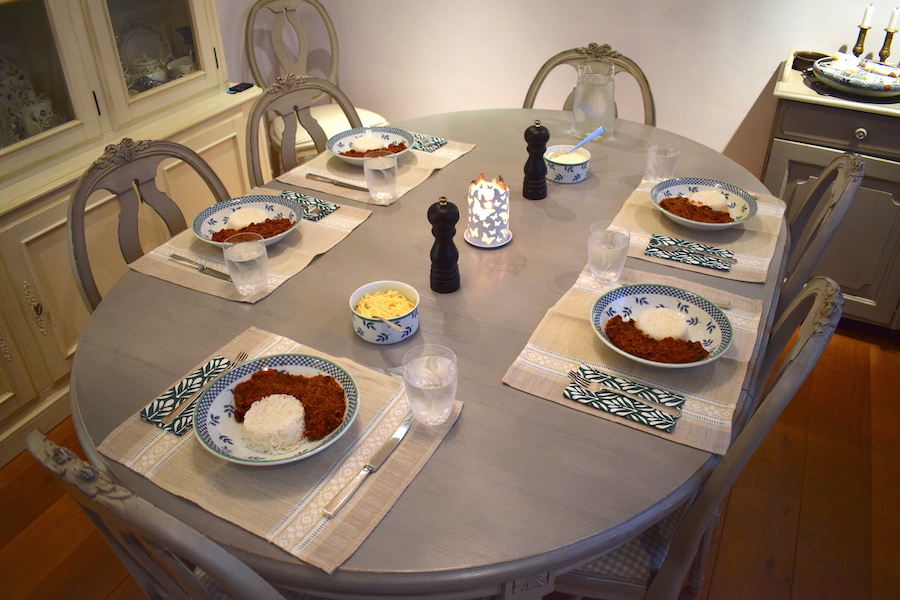 I do hope you find this chilli con carne as yummy as my family do!
Lydia Signe x